Fonte: Chefinyou
Blueberry Buckwheat Pancakes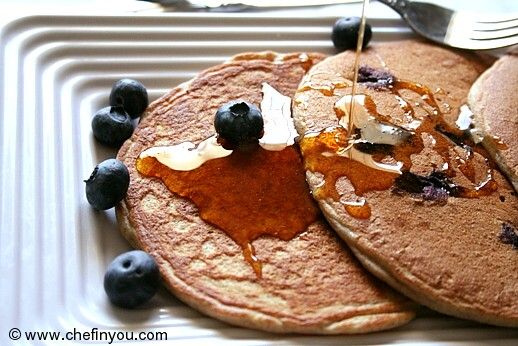 I am on a pantry cleaning spree - more so of my freezer than of anything else. I just seem to have hoarded so many stuff in there that even simple navigation seems to be an issue. I do hate to have a messy pantry with 'too-many-to-count' items in there - but I guess I hate returning "empty-handed" from a grocery more!!! Its been hard for me to not buy stuff which I wont be making immediately. I am glad I have managed it somehow in these last 2 weeks cos clearly at the rate I am managing to empty out my freezer, I shouldn't even consider going to whole foods for another 2 whole months. The first thing that came out of the freezer when I put my hands into it was this Buckwheat flour. Oh yes!!! I have been meaning to try this recipe from Ellie Krieger ever since I it in her show.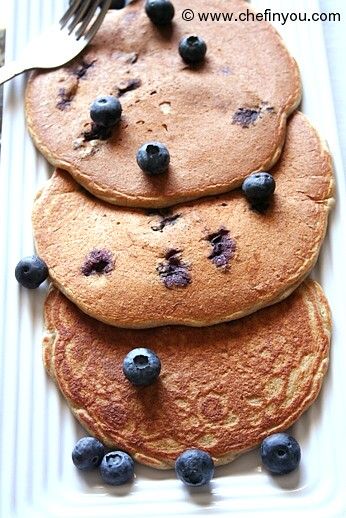 I remember getting the flour, the same evening and then somehow managed to forget all about it. So here it comes now. I made v subtle changes to the recipe. I found that the this pancake
had a more Earthy taste to it.
It was
not at all sweet
and even I had to actually add quite a bit of honey to my pancakes as a topping. I also found that if you let
the pancake batter stand for some time
, it start tasting better than when made immediately. If you have never used Buckwheat flour earlier, then I would suggest you to go slow on it. Add a little of the buckwheat flour to this recipe, get used to the taste and slowly up the measurement the next time you try it. I added the original measure since I knew what to expect the first time around, having made recipes with the flour. Makes a power packed breakfast in the morning bursting with blueberries. Perfect for us.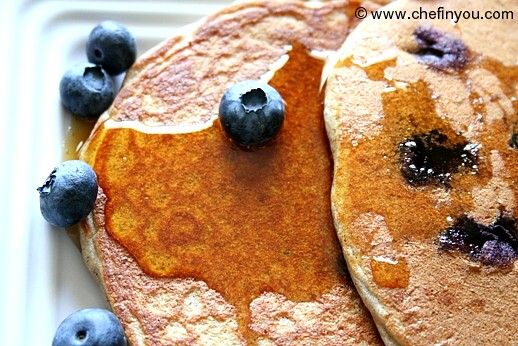 Ingredients
3/4 cup buckwheat flour
3/4 cup whole wheat pastry flour (see substitutes)
1-1/2 tsp baking powder
1/2 tsp baking soda
1/4 tsp salt
1 cup buttermilk (or mix little water to fat free plain yogurt to make 1 cup)
3/4 cup milk (fat free, 1%, 2% fat all work)
1 tbsp honey
4 egg whites (or see Egg substitutes )
2 tbsp canola oil (or any other vegetable oil)
1 cup blueberries + few for garnish
Honey to serve (or maple syrup)
Method
1
Beat the egg whites lightly.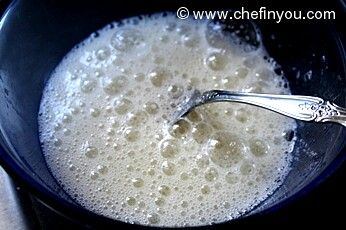 2
Add rest of the wet ingredients to the beaten egg and mix well.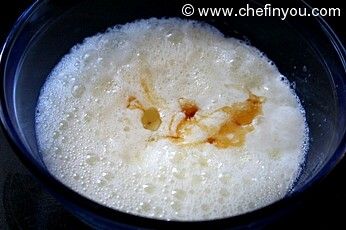 3
In another bowl, mix the dry ingredients together. Stir the wet ingredients into the dry ingredients, mixing only enough to combine them. Stir in 1 cup of berries.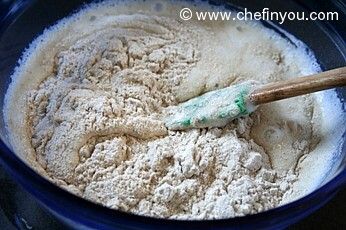 4
Preheat a large nonstick griddle or skillet over a medium flame. Ladle the batter onto the skillet with a 1/4-cup measure.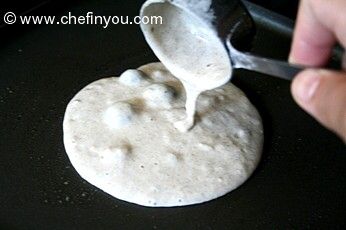 5
Flip the pancake when it is golden brown on the bottom and bubbles are forming on top, about 1 1/2 minutes.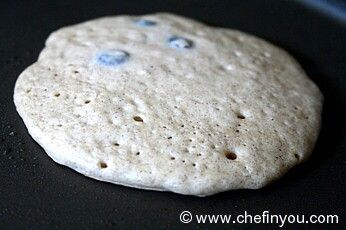 6
Cook the other side until golden brown, about 1 1/2 minutes.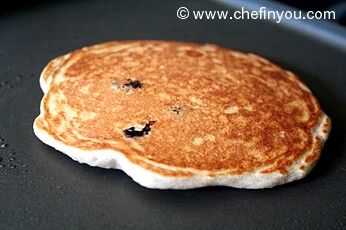 I served it with honey and blueberries